Liam Livingstone is targeting a return to cricket in time for the Indian Premier League, as the all-rounder continues his rehab from knee and ankle issues.
Livingstone suffered an ankle injury during The Hundred last year but recovered in time to feature for England during the T20 World Cup in Australia.
He was included in England's Test squad for the tour of Pakistan but suffered a knee injury in the first Test that meant he would play no further part in the series.
He has been out since that game in Rawalpindi but hopes to return to cricket for the IPL season, which begins on March 20, ahead of a busy summer for England and the Birmingham Braves in The Hundred.
Speaking to Sky Sports after the announcement of the full fixtures for The Hundred, Livingstone, who is part of the Punjab Kings' IPL squad, said: "I am recovering from a knee injury from that one [the Pakistan tour] and was carrying an ankle problem during the World Cup.
"I am just trying to get those sorted, it's a slow process at the moment. I am heading in the right direction. Hopefully I'll be back in the next couple of months.
"It was disappointing [getting injured during The Hundred]. I started the tournament not great and finally got some runs at The Oval. Unfortunately, I had a bit of a freak incident and hurt my ankle.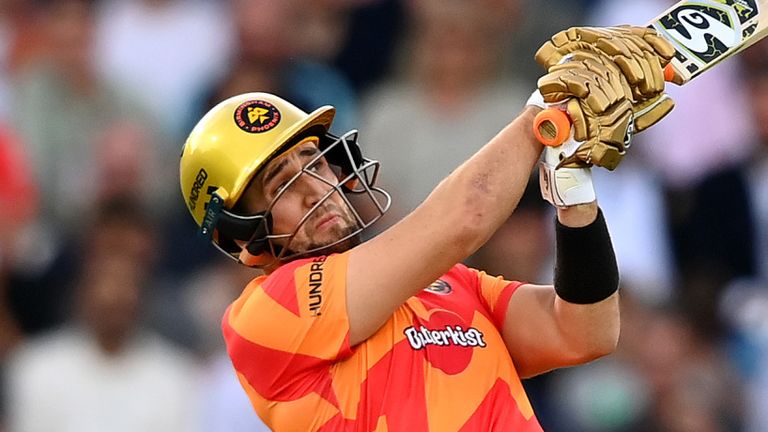 "It was incredibly disappointing to have got injured at the time, especially when it's the crunch time of a tournament.
"It's going to be a long few weeks building up from rehab, and hopefully I'll be back around the IPL time so I can get back into the swing of things."
As well as The Hundred in August, Livingstone will hope to feature for England in The Ashes Series after making his Test debut in that game in Pakistan and is expected to be a key part in the ODI team ahead of the World Cup in India later this year.
Livingstone believes it is a good thing none of the matches in The Hundred this year clash with England games.
"I think everybody wants to see the England internationals play, that's what brings the crowds in and that's what people want to see," he said.
"Certainly, for the young players in England, to be around the dressing room with (Ben) Stokes and (Joe) Root, it's massive for us. Them being able to play is a big pull."
Stream live cricket this year, including The Ashes, T20 Women's World Cup, The Hundred and ODI World Cup with Now TV.
#Liam #Livingstone #hopes #fit #IPL #injuryaffected #Cricket #News