Arsenal Women have set a deadline of 12.30pm on Thursday afternoon to decide whether their Continental Cup tie with Aston Villa will go ahead later that evening due to poor conditions.
Last weekend's Women's Super League action was marred by late postponements and an abandoned match due to frozen pitches – with the saga being branded as a "dark weekend" for women's football.
Sunday's match between Chelsea and Liverpool was abandoned after just six minutes due to the conditions posing a risk to player safety, leaving managers Emma Hayes and Matt Beard furious that the match went ahead in the first place.
Later that day, Arsenal's trip to Brighton, which was set to be broadcast live on Sky Sports, was also postponed at 4.11pm on Sunday, two hours and 34 minutes prior to the scheduled 6.45pm kick-off time at Broadfield Stadium. Tottenham's match with Leicester was another game that fell foul of the freezing conditions.
Chelsea and Liverpool's WSL match was abandoned after just six minutes following an assessment to say the pitch was unplayable and Sue Smith says it cannot happen again

With the cold weather continuing this week, Arsenal have announced that a "final decision" surrounding their match at home to Aston Villa will be made over seven hours before the scheduled kick-off time at Boreham Wood, to give supporters enough notice.
The north London club also looked into the possibility of moving the fixture to the Emirates Stadium – the 60,000-seater venue where both the men and women's teams have played this season – but that scenario was not possible due to "essential pitch maintenance".
A club statement said: "We understand how disruptive postponements can be for supporters, particularly when they come close to kick-off time.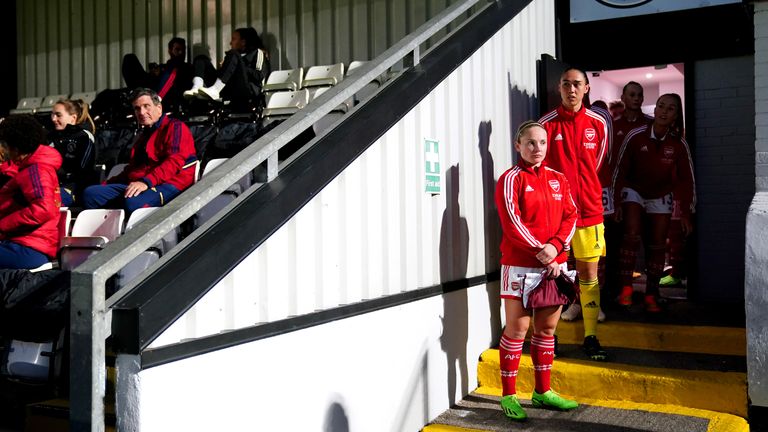 "In order to remove this risk entirely for our match on Thursday, we investigated the possibility of moving the match to Emirates Stadium, however this was not feasible due to essential pitch maintenance.
"We have agreed with The FA and Aston Villa that there will be a pitch inspection at Meadow Park at 12pm on Thursday ahead of kick-off at 7.45pm.
"A final decision on whether the match can be played will be made at this time and we will communicate the outcome of the inspection as soon as the decision is made by the match official.
"We hope this information provides some clarity for supporters of both teams and will minimise disruption in the event that a postponement is necessary."
Everton midfielder Izzy Christiansen has called for action to address the amount of Women's Super League games lost to bad weather after "a dark weekend" for the women's game.
Chelsea and Liverpool's match Kingsmeadow passed a pitch inspection two hours before the 12.30pm kick-off, but after Blues midfielder Erin Cuthbert took a heavy fall in the fifth minute, referee Neil Hair deemed the pitch unplayable and called off the fixture.
Christiansen said a long-term solution is required to avoid a repeat of the "shocking" situation at Kingsmeadow and not damage the momentum and integrity of the game that has been growing exponentially following the Lionesses' Euros success last summer.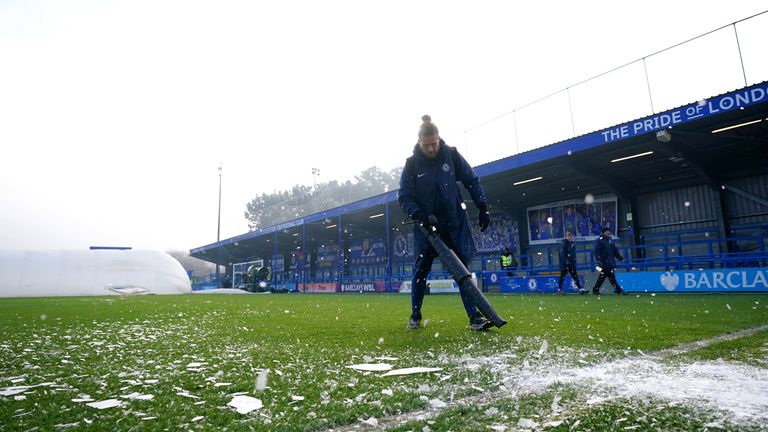 "Action needs to be taken, possibly an investigation into what's actually happened and why and how the FA and clubs move forward to make sure this doesn't happen again in the future," Christiansen told Sky Sports.
"Without sounding like a broken record, the weather at this time of year in England is cold, so there needs to be decisions made for clubs from the FA that enables games to proceed, because again we speak about scheduling in the women's calendar, and backlog of games towards the end of the season – and that comes back to a player welfare issue again.
"Talking about player's welfare, when it comes to women's football, we're used to dealing with a lot more issues than men's football and the battles in our careers.
"Whether a game is on or not is nothing new to a lot of players because of the weather or another circumstance, I feel like it's something that as women players we're used to, the uncertainty around games.
The FA's Pitch Inspection Guidance
When dealing with such elements as frost or ice – remember that the highest temperature of
the day is usually around midday. Get a forecast if necessary of the projected temperature
for the time when the match is due to conclude
– The manpower available to the home club to carry out any necessary work to make the ground playable
– The time the visiting club are due to commence their journey
– Liaise with managers to gauge the thoughts of both clubs
Remember the decision as to whether the match is played, is the referees.
"We're talking about a real dark weekend in the WSL where a lack of clarity, a lack of decision-making has represented where the game is at the moment and it's a really worrying situation for us as players and for the authorities as well that that's happened and the spotlight that is on the women's game and brighter than ever at the moment.
"You can't change it overnight, it needs to be a long-term solution. This can't happen again next season. For now, what I think has to happen, is better decision-making, more informed decisions, that protect not just the players but the game and its integrity, because a game that gets called off six minutes after it has started, really, really takes the game backwards in my opinion.
"The Arsenal-Brighton game got called off sooner than that and the Tottenham-Leicester game was called off with about 24 hours' notice. I think that's what still happens in men's lower-league football, so I think we have to be realistic here, there just aren't enough stadiums that have undersoil heating and higher specifications that allow games to proceed no matter what the weather is.
"We understand the women's game isn't there yet. But a game kicking off and then being abandoned after six minutes is a dark day for women's football."
A Women's Super League spokesperson said: "We worked hard with the clubs and the match officials to safely play the Barclay's Women's Super League fixture between Chelsea and Liverpool as scheduled. Following inspections before the match, the pitch was deemed to be playable by the matchday referee.
"However, shortly after kick-off, the referee made the decision to abandon the match in order to protect the safety of the players, which is paramount. We sincerely apologise to all fans who travelled to the match. The fixture will be rescheduled in due course."
#Arsenal #Women #hold #final #pitch #inspection #Thursday #ahead #Continental #Cup #tie #Aston #Villa #Football #News