Thanasi Kokkinakis says he is ready for the challenge of facing "role model" Andy Murray in the second round of the Australian Open on Thursday.
Home favourite Kokkinakis is ranked 159 but has beaten six top 20 players in his career including Roger Federer in Miami and Andrey Rublev last week.
He came through his first round match against Fabio Fognini in straight sets – a match that was delayed on Tuesday due to extreme heat and storms.
When play was stopped, Kokkinakis was five points away from a win but swiftly finished the job on Wednesday.
The 26-year-old played Murray in the Davis Cup in 2015 and won just six games in three sets, but believes he is in a better place now.
"He definitely handed it to me that day, but I'm ready now, I feel good," said Kokkinakis.
"It's going to be a tough match, obviously. I watched a fair bit of his match against Berrettini and he played great. He is looking in good shape. I've practised with him a fair bit recently.
"I'm just going to continue to play my game. He may have lost a little bit [of pace], but his anticipation is just as good as ever, and he can still play at the top with the best of them. I'm going to be ready for the best version of Murray."
Andrew Castle does not think Andy Murray is a genuine contender to win the Australian Open, but admits you can never right off the former world No 1.

Murray a 'role model' on the ATP Tour
The former British No 1 came through a gruelling five-set tie under the roof against Berrettini on Rod Laver Arena on Tuesday, in a match that nearly last five hours.
He showed signs of his old self in the match against the hard-hitting Italian, a semi-finalist in Melbourne last year, and Kokkinakis said Murray is someone he respects a "great amount".
"He is such a role model for everyone in British tennis, but also I think on the Tour, what he is doing and achieving. I'm so, so happy for him.
"Andy is someone I respect a great amount. He was someone when I came on to Tour that was always willing to give some advice.
"We get along really well. I remember watching him when I was younger thinking this dude looks moody as hell, he looks miserable. Then when you got to know him, he is actually a ripper bloke and a good guy."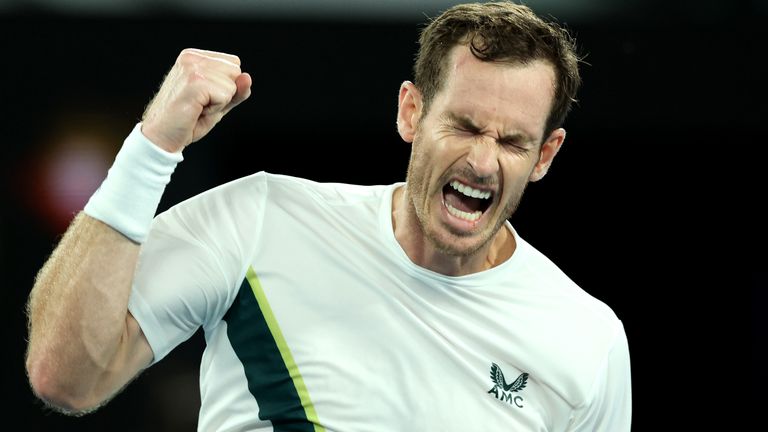 'I wish I had metal body parts'
Murray's career in recent years has been heavily disrupted by injuries, including a hip surgery that many thought would force him into retirement.
His opponent on January 19 has also struggled with injuries throughout his career, with his right shoulder the main source of trouble.
"At times I wish I had metal body parts, they might have held up a little bit better," Kokkinakis said ruefully in reaction to Murray's continued exploits.
The 35-year-old was moving gingerly after defeating Berrettini, but the intense physical work he put in during the off-season paid dividends on court, and he is hoping he will pull up in decent shape.
"It's obviously not that easy to recover from a four-hour, 45-minute match," he said.
"But I have put myself in the best chance to be able to do that with the training and stuff that I've done the last few months. I wouldn't expect myself to feel perfect on Thursday, but hopefully I'll be in a good place."
#Andy #Murray #Thanasi #Kokkinakis #Home #favourite #praises #role #model #opponent #ahead #Australian #Open #meeting #Tennis #News