It is no wonder Dave Challinor says he will remember his maiden Sky Bet Manager of the Month award as an EFL manager forever.
Granted, his Stockport side played only three matches in December, owing to the freezing conditions that saw swathes of matches postponed across the country in the lead-up to Christmas, but they won each of them comfortably and scored nine goals without reply.
As a result, they climbed into the top 10 in League Two for the first time this season – their first campaign above the National League since relegation in 2010/11.
From the outside, it looked as though they were, at last, beginning show just why bookmakers had priced them as outright favourites to lift the title in the summer, after seven defeats in their first 10 league games this season.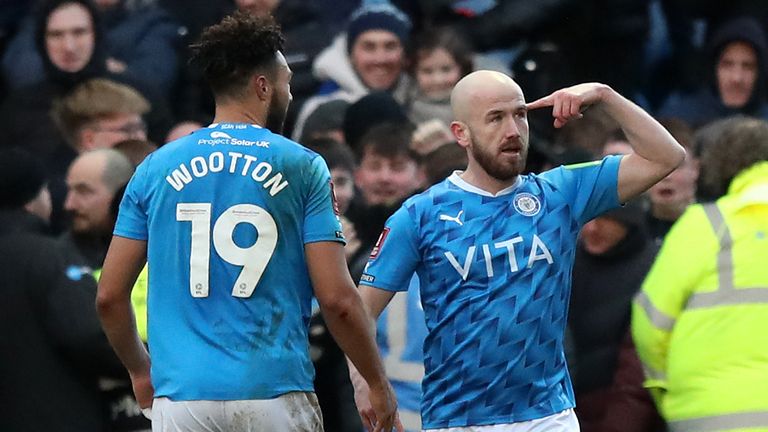 But those three games simply solidified their toils of the previous five months and returned them to the promotion mix they always believed they should have been a part of anyway.
Restricting the errors, and learning from them, was key – and now they are motoring as a result, sitting comfortably in 10th, three points outside the play-off places with two games in hand.
"The positive we had to take from the first batch of 10 games was that we didn't lose a game by more than a goal and we were in every single one, but we just conceded really bad goals that put us on the back foot," Challinor explains to Sky Sports.
"Since then, we've cut out those mistakes, done the basics much better and got a feel for each other. We did have some change in the summer and it was a new group. Even though results weren't showing, I felt that group had gelled, but there's definitely more to them now.
"We couldn't have done any better over Christmas. Certainly from outside the club, there would have been a lot of frustration that the games that got postponed were, on paper, against teams struggling at the time (Rochdale and Gillingham). By the middle of February, we should be caught up and know where we're at.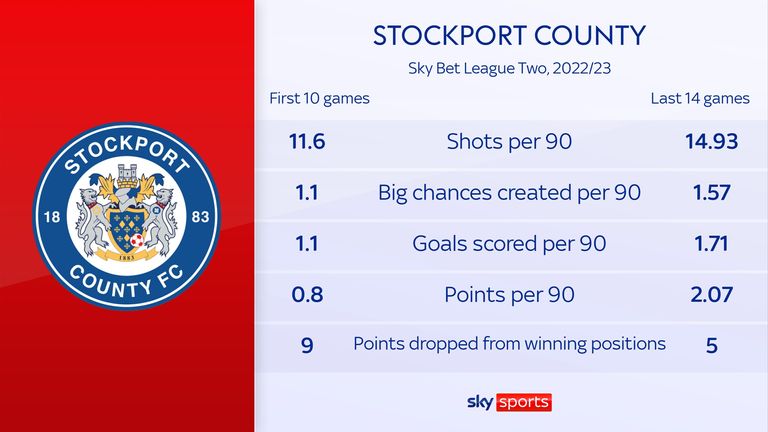 "I think we'd all like to be a couple of positions higher – and I can probably count on a single hand the games where I've thought we weren't great – but we're in a position where we're on the rail and we're ready to have a shot at the teams above us."
The recent defensive record has been near-faultless and, thus, a significant factor in County's rise, no doubt in part down to Challinor's 17-year career as a centre-back himself; since October 1, they have shipped just eight goals in 14 games and kept nine clean sheets.
But there is no specific defence-first approach. They are also currently among the highest scorers in the division with 35 in 24 games, going into Saturday's trip to Crewe, with illustrates how Challinor's favoured 3-5-2 formation is paying dividends.
He is aware of the potential drawbacks, yet appears to have got the balance just right.
"In terms of how we want to go about it, we will be open," he says. "Especially when we play a back three, we have wing-backs that are very expansive and very aggressive in terms of getting forward.
Watch highlights of the Sky Bet League Two match between Stockport County and Northampton Town

"We want our wide centre-backs to step in with the ball, not just to be reliant on defending, and that's a huge part of what we do. We want to try and maintain attacks and play in the opposition half of the pitch, but at times, you do have to defend.
"I certainly want us to be a team that are different in possession and out of possession. We want to win the ball back as quickly as we can when we're out of possession and in possession try and get bodies in the box and the ball in the box as often as possible with quality.
"Earlier in the season, we didn't give ourselves a chance. We conceded goals where we were requiring ourselves to score three or four goals to win matches and you can't do that over the course of the season and expect to be successful.
Stockport's next five fixtures
Crewe (A) – Saturday January 21, 3pm
Bradford (H) – Tuesday January 24, 7.45pm
AFC Wimbledon (A) – Saturday January 28, 3pm
Tranmere (H) – Saturday February 4, 3pm
Harrogate (A) – Saturday February 11, 3pm
"Everyone has spoken about, with me being a defender, what I'd expected when I came here and the easiest way to win a game is by making sure you don't concede, but we still want to be expansive, we still want to be entertaining and score as many goals as we can, but not at the cost of leaving ourselves wide open.
"When you are losing games, fingers are going to be pointed in the defenders' direction, so to get the clean sheets that we have has built confidence and allowed us to be free-scoring."
History always suggested Challinor was going to be able to turn Stockport's early fortunes around. He left his first job at Colwyn Bay with a 51 per cent win rate and won over half of his 415 games in charge of AFC Fylde, as well as avoiding defeat in 65 of his 90 games in charge at Hartlepool.
What is the secret to the winning mentality he manages to instil everywhere he goes?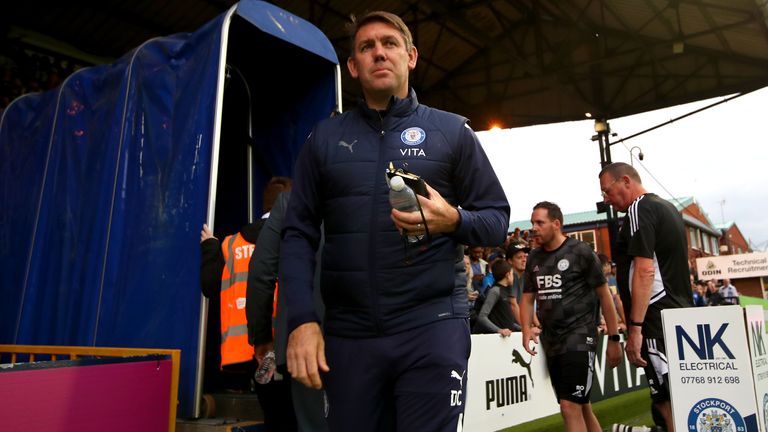 "You have to control what you can control. Regardless of what level I've managed at, I've wanted to do things as professionally as possible and that's only been enhanced the higher up the leagues. The detail you need to go into is massively important.
"There are certain things you stick to in terms of what you want from your players and, as easy as you can make that for the players, the more they'll take to it and buy into it. Here, we give the players lots of freedom to express themselves on the pitch, within certain guidelines.
"The big thing for us is working hard. The game has changed and there are technical aspects, but it's an athletic game. The last two clubs I've been at have had fanbases that, especially when you are at home, want you to be on the front foot and want you to play attacking, aggressive football.
Stockport's fall and rise
2010/11 – Relegated from League Two
2012/13 – Relegated from Conference Premier
2017/18 – Lost to Chorley in National League North play-offs
2018/19 – Won National League North
2021/22 – Won National League
"We have 9,000 fans in our ground who want to see that, so you'd be daft not to tweak what your ideal philosophy is around what the club expectations and values are. The big thing for me is having a group of players that go out there knowing that, regardless of whether they have a good game or a bad game, they will give everything they've got."
It goes without saying they have succeeded in that respect of late. But can they sustain it? It is the million-dollar question, of course, though recent form suggests the answer may well be a resounding yes.
Win one game in hand and they will almost certainly move into the top seven, given their superior goal difference to the 14 teams below them and the five teams immediately above them. Win both and the pressure cranks up on third-placed Northampton, whom they beat 2-0 last time out.
The business end of the campaign is fast approaching and Challinor admits he feels the next six games are, arguably, the most important of all 46.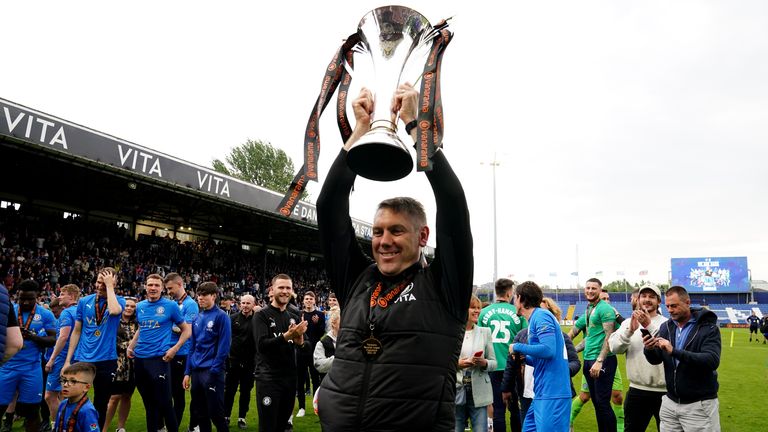 "The next six games will be almost season-defining. If we can be in touch with 16 to go, then I really think we can kick on – we have to do that.
"We do come up against teams where we can have a direct impact on teams who are direct opponents to those top seven positions. The top three teams need reeling back in, but what I would say is there's probably 11 or 12 teams below them all still in it and looking to drag them back in, which makes the games competitive.
"Promotion was the aim at the start of the season and after 10 games, if you'd asked me if it was the aim, I'd still have said it was, but we'd just made it a whole lot more difficult.
"We've just got to make sure that we concentrate on us, hopefully put the pressure on and hope the teams above us falter slightly. And when we do face them, take our opportunity to pick points up from them.
"Let's be clear, we'd love to be in the top three, but if we were in the play-offs, we'd take it."
#Dave #Challinor #interview #Stockport #County #manager #expansive #football #perfect #December #Countys #seasondefining #run #Football #News